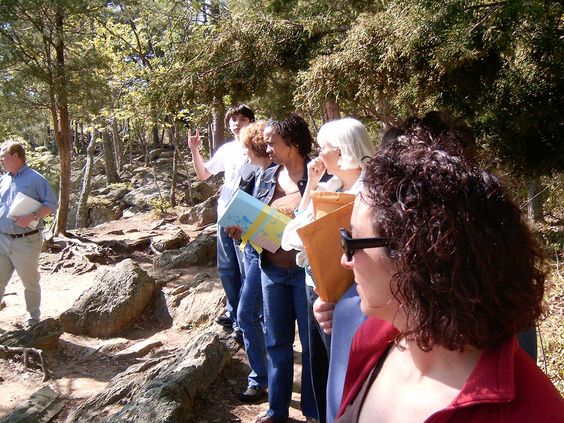 Algonkian Park Trail Hike
As of this date, we've been at this for a few years. The following are representative reviews of Algonkian Writer Conferences. The writers attended mostly intensive novel workshops and pitch events, as opposed to retreats.
________________________________

I've been to three of these Algonkian Writer Conferences, including both writing conferences and a Pitch Your Book session in New York City, and on the whole, they provide very good education for a reasonable price... As the publishing business gets more and more difficult, I'm not convinced agents and editors have the time to read queries very easily.
Being in front of them is a definite way to improve your odds of at least getting decent feedback. The Algonkian Writer Conferences provide, IMHO, far better value than some of the much larger conferences where the interactions are increasingly staged and short-lived.
- John Arnold
____________________________
I also think it is a good idea to check out writer conferences before investing your money and time in them. I have been to the Algonkian Writers conferences in Virginia and in NYC.

As a beginning writer, I was looking for technique training and how to develop a good story that I would enjoy writing and that would sell. I found that and more at the Algonkian conferences. The Virginia conference is 5 days of intense discussion, writing exercises and pitch development. I learned a lot about these topics from this conference, and so much more. I also made incredible writer friends who continue to support me and my writing every day.

The NYC conference was amazing in that I was able to meet one on one with very well known and creditable publishers and agents. Each agent and publisher took their time with me and gave me some extremely helpful advice on my plot development and pitch.

I don't think I could say enough good things about the Algonkian conferences. Each time I finished one, I was more inspired to reach my publishing goals and become a better writer. When I am ready to start the process of publishing, I feel confident that my manuscript will be professionally completed with a story written to the best of my abilities.
- April Forer
____________________________
Hi Lance et al,
I've been to two of the Algonkian writer conferences, each very different from the other, both very valuable (to me). I started with terrible query letters and, despite hours and months of reading and researching on the internet, no real understanding of the business of writing.
From the two conferences, I met or was connected with:
- an editor (an EDITOR!) who wants to read my manuscript
- an agent who I believe may give me a second glance
- an excellent book doctor to whom I'm sending my manuscript
- a MUCH better query/pitch
- a rewrite that I probably wouldn't have done otherwise
- a much better understanding of the agent-writer experience, and what I need to do
- contacts, contacts, contacts, and serious writer friends
If that sounds as if it's worth the money, go for it. The Algonkian writer conferences got my feet planted firmly on the path where I want to be going. Is it hard? Yes. Is Michael Neff brutally honest? Yep. But he really, really wants you to succeed, and he doesn't scorn tough love.
- Michael Ashton
____________________________
I have to echo what Skate and Eir and John Arnold said about Algonkian Conferences. I went to the one in San Francisco, and it was radically different from any other workshop or conference I had attended. The approach is simple and pragmatic - you are taught to understand the perspective of the agent or editor, whose job to sell your novel. In my case, I showed up at the workshop with a completed novel. In the workshop, we had to write a pitch and rewrite it, then we got to practice it on a real, live agent who gave us feedback. Bad pitch? Rewrite it and try again a couple days later on MORE agents... I found it tremendously difficult to switch gears like this, from hardcore novel-writing to hardcore market analysis - but once I got it I felt great. Totally worth the price of admission, and I won't hesitate to go again.
____________________________
I got two invaluable things out of the recent Algonkian Writers Conference. One was the repeated admonition to utilize all the tools of the craft. Even those of us who've written for a living forever can always use this reminder. A carpenter wouldn't attempt to frame a house without tools and neither should a writer ever sit down without his or her full arsenal at hand. Secondly, The Algonkian Writers Conference is a no-nonsense primer on all that need be done to prepare a manuscript for presentation. Faculty consistently underscore the fact that publishing is a hard-hearted racket driven solely by the profit motive. Agents are deluged with thousands of MS yearly and only a few are ever advanced to a publisher. Hence, a pitch, a log line and a synopsis must be absolutely sensational to garner even the slightest attention.
In that regard, this is not a feel-good seminar.
Some hearts were broken and some treasured ideas were trashed by the agents who attended. But from the first hour of the first day, the faculty emphasized the cold facts and discouraging numbers of the trade, urging us to beat the odds by avoiding the errors and pitfalls of the amateurs. Now, there is some unavoidable tedium associated with such a gathering, when people are working on projects that seem silly or meaningless to you, but I found it helpful to pay attention to everyone's presentation in order to hone mine to a better polish. In doing so I discovered that the focus of my project needed to be compressed and a new angle of attack implemented. Honestly, I'm returning to work energized by the five days I spent and the aspiring writers I befriended.
____________________________
The Algonkian Writers Conference is equal parts:
• a PITCH-IT-TO-ME BETTER, FASTER, STRONGER WORKSHOP in which the faculty will help you hone your novel and thus how you talk about/describe your story (your pitch) so that you can pique an agent and/or reader interest in your work effectively.
• a KNEE JERK REACTION SESSION WITH LITERARY AGENTS in which
working
literary agents will give you feedback on your pitch, your premise and how they might react to your work. Additionally, they'll probably tell you if they think you're putting it in the wrong genre or if it sounds too much like something they've already seen (or seen a lot of). If your lucky, they'll love your idea, give you a business card and ask you to please send your work when it's ready (this alone is worth the price of admission).
• a PANORAMIC PICTURE OF THE PUBLISHING WORLD so that when the conference is over, you know exactly what's going for you, what your up against and what it's going to take to become a published author.
Additionally, between the different sessions, writing exercises and discussions, you'll get a good sense of your strengths and weaknesses as a writer. Is your description sloppy/boring? Do your stories lack tension (ahem ... does your story
lack story?!
)? Are you revealing secrets too early or making things too convenient for your protagonist?
____________________________